Digital Donation
Under the UN Global Sustainability GOALS, UpSkills Learning Council has been proactively working in rural and urban areas also to empower communities with ICT tools and digital intercessions. The council envisions the empowered equitable communities by providing digital access to information, knowledge and online services. Providing wireless connectivity in remote areas, creating digital classrooms in villages, training and capacity building of youth has been some of the undertakings of council"s key work.
ULC's main focus is to relate technology to the masses especially on how technology can empower women, youth, differently abled and elderly in digital agricultural literacy, media literacy, digital upskilling and digital women literacy. The notion is based on how does digital literacy in different fields become a bare necessity for humankind. Since inception, the council has been actively engaged in digitally empowering local communities through its 150 Community Information Resource Centres located across 7 states and 35 districts in rural, tribal, marginalized, and unreached areas. Under its Education wing, ULC has directly and indirectly made 5 thousand artisans, youth, differently abled people, women, and elderly digitally literate. ULC has developed offline and online curriculum and training programs on functional literacy, media literacy, financial literacy with emphasis on application-based tools on local governance, agriculture, livelihood, and information etc.
e-Daan
Education for All, Device For All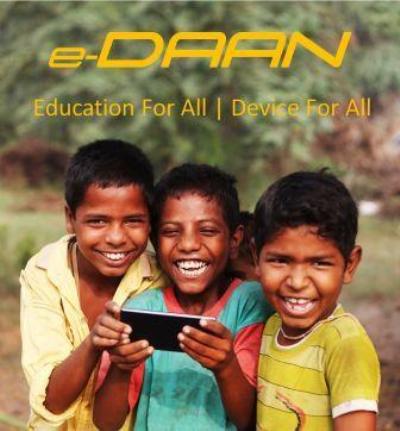 In 2020 world get paralysed due to COVID-19, reduced economic activities, and most importantly it disrupted the education sector – which is a critical determinant of a country's economic future. In India, 320 million students have been affected by school closures, and though the government quickly recommended shifting to "online teaching," this ignored millions of Indians who do not have access to technology and connectivity.
Thus, to address the digital divide and to promote inclusion, ULC initiated a program called 'e-Daan' to make pre-owned devices available to the rural households, in order to enable e-learning and self-learning among the young learners. The project aims to crowdsource the devices from urban and metro cities and redirect it to rural communities to bridge the digital divide.

E-Daan is rooted in the philosophy of giving and believes in redistribution from those who have more to those who have less— from the privileged to the underprivileged, from the haves to the have not.
The project targets rural households with one or more school-going children across 35 districts in 7 states in India.


Smartphone, laptops, tablets, desktops, printers, projectors and cameras are donated at our 'Device Collection centers' located across the country. Till date, the Council has collated 5,00 such devices which is distributed to 20-30 education public access points at the rural and urban poor areas, where children can come and interact with their facilitators online at the pre-scheduled time. The aim is to replicate this model across 1000 locations and 10,000 villages to have community learning. It also envisions community-wide access, inclusion and widespread education especially for the girls as they are the worst affected by the shift to online schooling.
Not only this but our campaign is also aimed to solve the E-waste problem thus solving both educational and environmental problem. According to the global reports, World's E-Waste has grown by 33% in 2017. Some 20 to 50 million metric tonnes of e-waste are generated worldwide every year, comprising more than 5% of all municipal solid waste. When millions of computers purchased around the world every year become obsolete they leave behind lead, cadmium, mercury and other hazardous wastes. As a baby step to address the magnanimous global issue of e-waste, Upskills Learning Council (ULC) has implemented a initiative to invite donors and IT companies to donate used computers to our centers. In India, millions of computers and laptops are dumped every day, informal processing of electronic waste may cause serious health and pollution problems, as these countries have limited regulatory oversight of e-waste processing. Your one humble step in this direction can help Digital Divided to get access to technology and scale up the operations in areas of education and health infrastructure in the backward areas and villages.
By donating your old computers or smartphones you will be making an important step towards bridging the digital divide. In today's world every person and organisation have to keep pace with the technological changes. Thus, throwing away your old smartphones, desktops and laptops in favour of the latest model is the in-thing. But there are many children in India like the ones residing in the rural areas of India who have not even seen a computer. To help such children with digital education, Upskills Learning Council (ULC) has started this campaign to help and promote E-Learning.
In order to make this campaign successful and promote growth and learning of the poor children who have big dreams, we look forward to hearing from you.
We are urgently appealing to donate smartphones and electronic gadgets i.e. desktop, laptop, tablets, camera and printer for underprivileged gifted children of government school in India.
Like so many countries across the world affected by the Covid-19 pandemic, schools in India have closed. It is uncertain when they will reopen however school children are encouraged to continue their studies online.
Providing a secure and hopeful future of our beneficiary-students is paramount. Therefore, to ensure that the children supported by our education programmes (as well as the wider community) are able to study online, we are seeking donations of up to 1,5000 smartphones and tablets.
Education is key to breaking the cycle of poverty and being part of the school system provides our students not only with knowledge and a support group but most important of all, hope for the future.
We are all feeling anxious at the moment, especially the school children. When the Department of Education announced that online learning would be the main source of education in India, we received concerning messages from families and children asking how they will be able to continue school without the technology or access to online learning.
Our team in India is currently seeking donations of used Apple and Android mobile/ cell phones and tablets that can connect to the internet; OR cash donations so they can purchase reconditioned smartphones in India.
---
How to donate
There are two ways to support our Smartphones for Futures appeal.
1. Donate an used Apple or smartphone or tablet or desktop or laptop
We can accept Apple or Android mobile/ cell phones and tablets** (Samsung, Huawei, Motorola, I Phone etc) that can connect to the internet. Please ensure they are unlocked with 3gb ram – Android 8 or higher with 32 to 64 gb storage.
Please include the charging leads and remove your SIM card, (we suggest that the phone/ tablet is reset to factory settings and personal information is removed).
Donors are advised to pack the phone/tablet in bubble wrap or newspaper. We recommend either using a courier service, or collect a number of tablets and phones.
For further information call Mk on:
091 635 011 2286
E: mk@upskillslearningcouncilorg
and we can arrange collection.
2. Cash donations
Through cash donations, our Upskills team in India can purchase reconditioned and recycled Android phones for approximately INR 6,000 each (equivalent to approximately GBP£ 60 / USD$ 60 / AUD$ 110 / SGD$ 110 / EUR 70). Cash donations can be made via:
Donate Now
Whether a donation is large or small, every peso goes directly back into funding one of our programs . So yes, every single peso really does count.
Choose exactly where your money goes
If you'd like to donate to a specific project please use the donate button on the program page in the program section.
If you would like to make a general donation, please use the donate button below and we will use your donation where it's most in need at the time.
Fill this Form to Schedule Your Electronic Devices Pickup or Drop at Your Nearest DDCC
DOUBLE YOUR IMPACT
Invest in a WORLD where every CHILD got EDUCATION
For more info get in touch with us at info@upskillslearningcouncil.org
Thank you very much for your generous support!